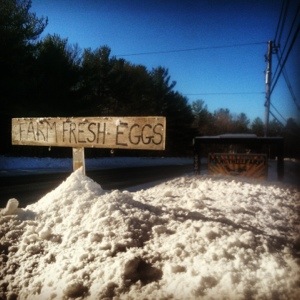 Farm Fresh Eggs Are Back!
Break out the skillet! Farm fresh eggs are back. The baby chicks we brought home in August are laying big bunches of delicious fresh, local eggs.
Bargain Pricing
Right now, many of the eggs we're getting are medium to large, do we're only asking $2 a dozen until they get going full steam with large to extra large.
Right now we're harvesting about 2 dozen a day. If you like, you can call ahead to ask if we have eggs for sale: 603 569 7701.
Bock, Bock!