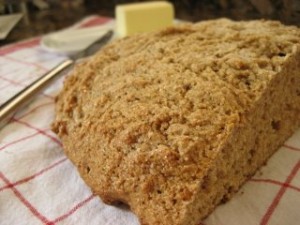 1 1/4 cups white flour
1 cup wheat flour
2 tsp baking powder
3/4 teaspoon baking soda
1/2 tsp salt
1/4 cup shortening
1 1/4 cups buttermilk
Traditional Irish Soda Bread typically has raisins in it, but to go with our roasted veggie soup, we like to skip the raisins. This is a very easy bread to make.
To make buttermilk, pour 1 tsp white vinegar into 1 1/4 cups of milk. Preheat oven to 450F.
Place all the dry ingredients in a large mixing bowl. Add the shortening and "cut it in" until it is distributed evenly throughout the bowl. Combine buttermilk and mix well. Add additional flour as needed a few tablespoons at a time until you achieve a dough stiff enough to stand without sagging.
Place the doughball onto a lightly greased baking pan (we like to use a pizza stone). With a sharp knife, cut a cross into the top 3/4 inch deep . Bake at 450F for 15-18 minutes.