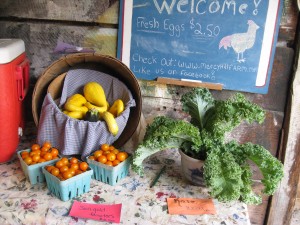 It's been a great summer for vegetable growing at Mercy Hill Farm. Our customers enjoyed a mess of kale, sweet corn, tomatoes, summer squashes, green beans and more.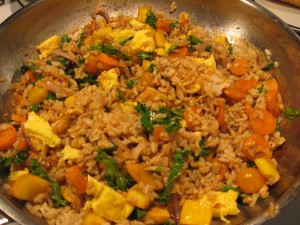 One of the dishes we dreamed up for dinner was "Farmer's Market Fried Rice."
2 cups cooked brown or white rice
2 cups cherry tomatoes, halfed
1 medium crookneck summer squash, cut into 1 inch pieces
10 leaves fresh basil, chopped
3 large farm fresh eggs, scrambled and cooked
1 large onion, peeled and diced
4 cloves of garlic, peeled and minced
one finger of fresh ginger root, peeled and grated
4 tbsns soy sauce or tamari
1 tbsn sesame oil
2 tbsns canola oil (or other vegetable oil)
Saute onions, garlic in a large saucepan or wok in 2 tbsns canola oil over medium heat until tender (3 -5  minutes). Add squash, saute 5 more minutes. Add remaining ingredients and cook over medium heat, stirring often, for 5 more minutes, or until everything is mixed well and heated through.
Bon Appetite!