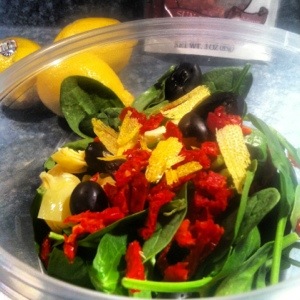 This gluten-free, dairy-free Mediterranean inspired vegan salad is a delicious way to fill up on vitamin, mineral and fiber-packed healthy plant-based foods:
Salad recipe:
• 6 to 8 ounces raw organic baby spinach leaves
• 7 ounces prepared artichoke hearts, sliced 1/2 inch thick
• 7 ounces black olives squished in half
• 1/2 cup sundried tomatoes, sliced 1/2 inch thick
• 8 or 10 straws of fresh lemon zest
Dressing recipe:
• Juice of one lemon
• 2 tablespoons extra virgin olive oil
• 1 large garlic clove, peeled, crushed
• dash of salt
• dash of ground black pepper
Serves two people for lunch or as an appetizer
Place spinach equally into 2 separate bowls. Top with olives, tomato, artichoke.
Scrub lemon with warm water and dry with a towel. Remove the zest by peeling small strings of the yellow lemon rind using a zester or peeler. Cut the lemon in half and squeeze the juice into a strainer over a bowl. Place a few pieces of the lemon zest over the salads.
Add to the juice the crushed garlic, the olive oil, salt and black pepper to taste. Blend and, while stirring to keep evenly constituted, evenly drizzle it over the two salads.
τώρα τρώνε και να απολαύσετε!
(That's Greek for: "now eat & enjoy!")