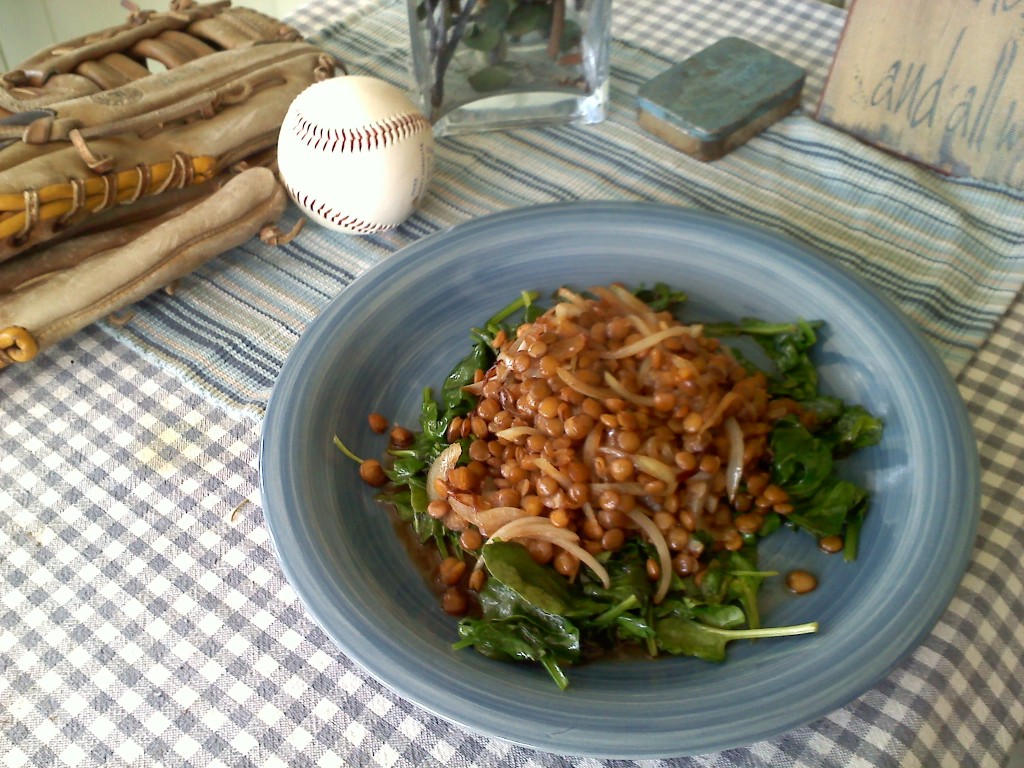 This vegan entree is packed with vitamins and fiber and makes a very satisfying main course, even if you are not trying to avoid meat, dairy or wheat products. We make it from memory – having first enjoyed it at our all time favorite lunch eatery: The Chinook Cafe in North Conway NH. Now closed, it used to be a regular dining treat for us about once a month. So in honor of the beloved Chinook Cafe:
Ingredients:
3/4 cup uncooked dry lentils
8 0z fresh baby spinach leaves
2 medium yellow onions
1 tbspn brown sugar
1/2 cup real maple syrup
1/4 cup balsamic vinegar
1/4 tsp each ground black pepper and salt
Recipe
Mix together the maple syrup and the balsamic vinegar in a measuring cup, add 1/4 tsp each fresh ground black pepper and salt. Set aside.
Peel and slice the onions as thin as you can. Begin sauteing them in a wide fry pan (we love our old cast iron pans for this) in a tsp or two of canola oil over medium heat stirring occasionally.
While the onions are cooking, put the lentils in a medium saucepan, cover them over with water to 2 inch above lentils. Bring to a boil. Set a timer for them: 20 minutes.
After about 10 minutes add a pinch of salt to the onions. Allow them to brown, but not burn. Once they are brown, add a tablespoon of brown sugar to the pan. Continue sauteing and stirring occasionally until they begin to stick to the pan, then remove pan from the heat. Set aside.
When the lentils are done, use a collander to drain them well. Then add the lentils to the onion pan and raise the heat to high. Once the onions and lentils are starting to sizzle real strong, add the maple/balsamic mixture. Let them sizzle for about 3 minutes, then turn off the heat.
In a separate wide frying pan, bring a few tspns of canola oil to medium heat. Add the spinach leaves. Stir them occassionally. Get four dinner plates ready. When the spinach is just wilted (about 5 minutes), spread it equally onto the four plates. Scoop the lentil/onion mixture equally onto the middle of the spinach on each plate.
Hope you enjoy this as much as we do! Drop us an email and tell us what you think.