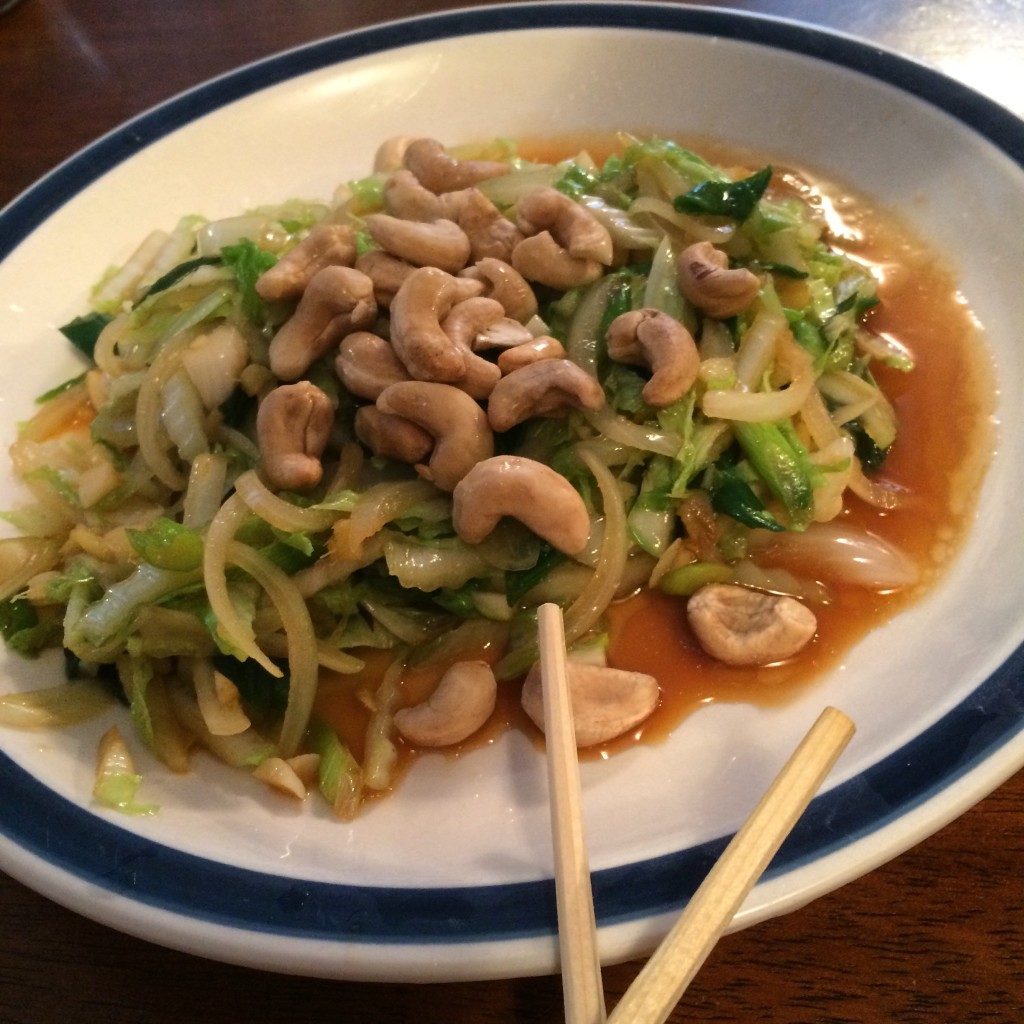 Gluten Free Recipe:   Shanghai Cabbage
This recipe is a gluten free version of an old Asian noodle dish called "Noodle Mountain." I guess you could use rice noodles, but we decided to make it even cleaner by eliminating the noodles all together. As with a lot of Asian recipes, it's also vegan and dairy free!
Serves 2
Prep time: 20 minutes. Cooking time: 10 Minutes
Ingredients
1/2 head Napa Cabbage, sliced really thin
1 large yellow onion, peeled, sliced really thin
1 bunch Nabuchan Onions or Green Scallions, sliced diagonally 2″
1″ Ginger Root,  peeled and diced
6 Cloves of Fresh Garlic, peeled and diced
1/2 cup raw, Unsalted Cashews
Juice of 1 Fresh Lime
1/8 cup Nama Shoyu or Japanese Soy Sauce
3 tablespoons Rice Vinegar
1/8 cup Toasted Sesame Oil
1/4 cup Peanut Oil
Recipe
Make the sauce: Combine the Nama Shoyu, Rice Vinegar and Toasted Sesame Oil in a small bowl. Set aside. Juice the lime into another small bowl. Set aside.
Add 1/4 cup peanut oil to a wok over high heat. The pan is ready as soon as a water drop disappears when you flick into the oil. Quickly add the yellow onions and turn down to medium heat. Saute` the onions until they are translucent, and remove from the pan to a plate.
Bring the pan back up to high heat again and add the cabbage, green onions, ginger and garlic to the pan and toss as you would a salad with tongs or two wooden spoons, until all the cabbage is limp, usually about 5 minutes. Add the yellow onions back in along with the sauce and heat through, about 2 more minutes.
Quickly remove the cabbage mixture to two plates, top with the cashews and lime juice – This tastes best when it's good and hot.
We like to eat it with chopsticks because it forces us to eat slowly.
Enjoy!