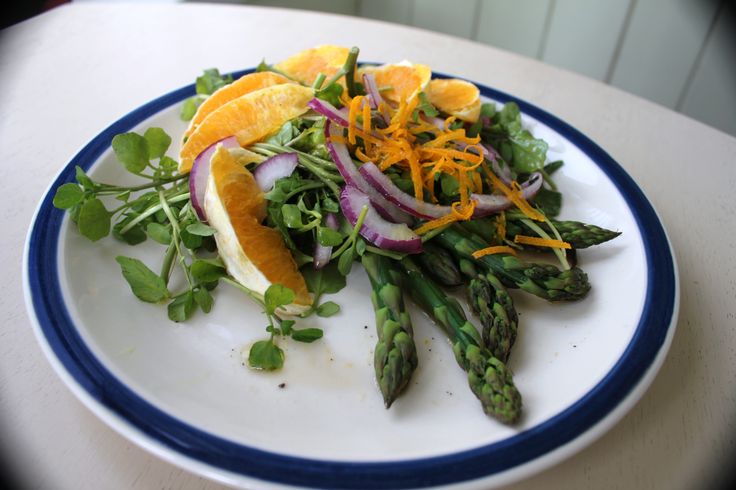 No need to let lettuce monopolize every salad. If you tire of romaine, iceberg and field greens, here's a great vegetarian green salad that combines the richness of slightly steamed asparagus with the subtle flavor of oranges.
Asparagus Orange Salad Recipe
serves 2 bored, hungry vegetarians
vegetarian, low-carb, gluten-free, grain-free
1 lb fresh raw asparagus
8 oz. watercress greens
2 large fresh naval oranges
1 red onion
2 tablespoons red wine vinegar
2 tablespoons extra virgin olive oil
1/4 cup crumbled feta or goat cheese
1 teaspoon poppy seeds
Remove the tough bottom parts of the asparagus stem on each stalk. Hold the tough end in one hand, and the middle in the other hand and bend the stalk in an arc until it snaps, discard the tough end. Place the remaining asparagus in boiling water for two minutes, drain and cool.
Meanwhile, use a citrus zester or julienne slicer and remove about 1 teaspoon of clean orange peel (zest), set aside in a bowl. Peel one orange completely then slice it into about 12 wedges, removing all the white pith. Cut the other orange in half and squeeze the juice into the bowl with the zest.
Add to the orange juice the vinegar, the oil and dash of salt and pepper.
Place the asparagus on a plate as shown, top with the watercress, onion, orange wedges, feta and poppy seeds as shown. Stir the orange juice dressing while drizzling evenly over the two salads.
This can also be easily be a vegan salad by simply omitting the cheese, or replacing it with grilled, cooled tofu.