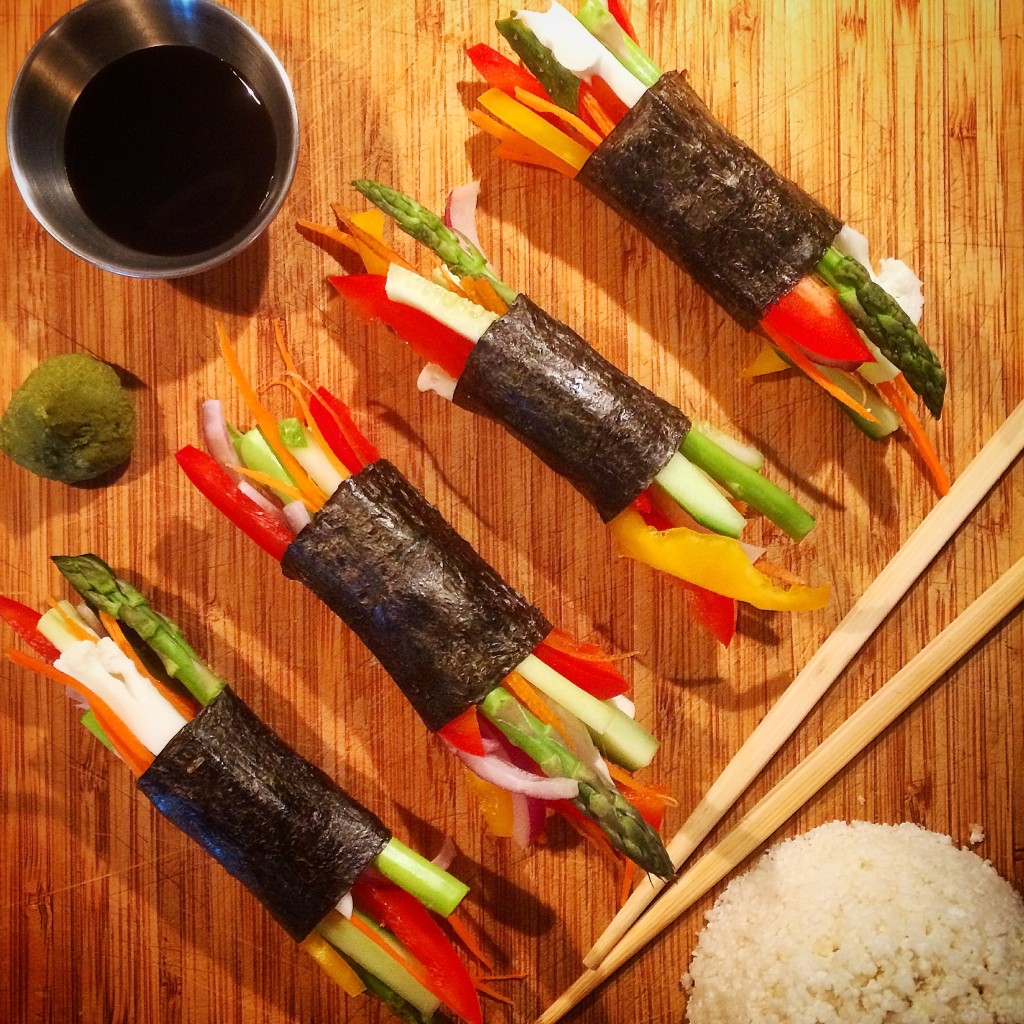 I just did not want another salad today. 😀 My Asian heritage and and abundance of vegetables led me to this:
Raw Veggie Sushi With A Side of Cauliflower "Rice"
Gluten free, Dairy Free, Grain Free and Raw Vegan
Recipe:
– Gather up your favorite raw veggies: carrots, cauliflower, cucumbers, asparagus, peppers, scallions, spinach, etc. You name it.
– You will also need:
Nori Sheets
Wasabi Paste
Gluten Free Tamari (soy sauce)
Pickled Ginger
1. Rinse your veggies well in cold water then julienne them into thin strips about 3″ long, as narrow as you can get them.  (If you need help with julienne, check out this video) Put a couple crowns of cauliflower into the food processor and pulse until it looks like rice. (Careful not to over pulse.)
2. Put a tablespoon of wasabi powder in a small bowl. Add a few drops of water and mash it around with a  spoon. Add a few more drops of water and mash again, until you get a thick, play-doh consistency. Then mash some more. (The more you mash, the hotter it gets…)
3. cut the nori sheets into strips 2″ wide and 8 or 9″ long. Put a few tablespoons of water in a small bowl and keep nearby.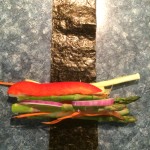 4. Lay a strip of nori on a wooden cutting board or other smooth flat surface, lengthwise away from you and place a few pieces of each veggie in the sheet about 2″ from the closest end.  Let some veggie pieces stick out further than others for better presentation. Dip your finger in the water bowl and wet the far end of the nori sheet, all the way from the top, down to the veggies.
5. Carefully roll the nori away from you, while pulling the veggies toward you, trying to keep the roll as tight as you can without tearing the nori.
6. Press the "riced" cauliflower into a small bowl and quickly put it upside down on your serving board to make the mound.
7. Serve on a sushi board with a small bowl of tamari, the wasabi paste and ginger.
Tanoshimi kudasai!