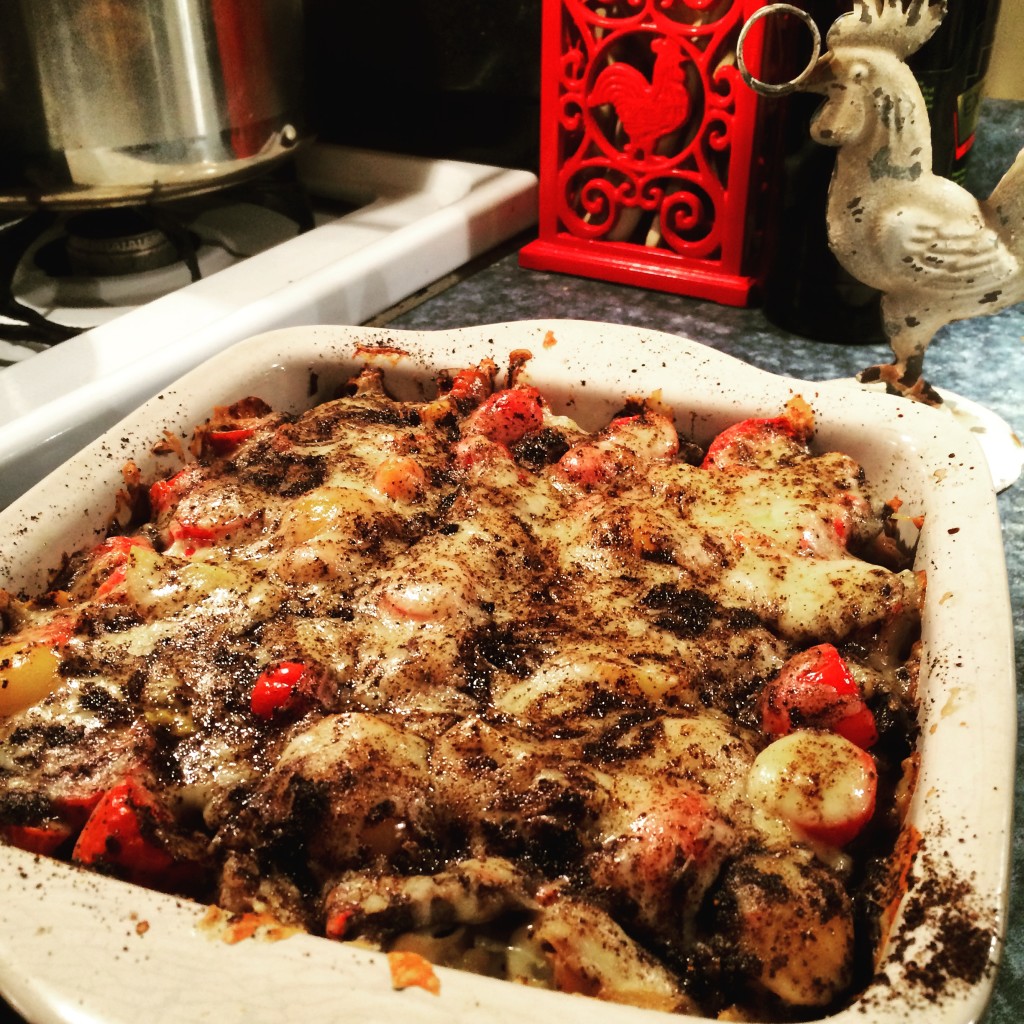 This  recipe is a tribute to my mom ( the most frugal woman I know) because this variation on the traditional Tamale Pie was put together with what we had on hand at dinner time, rather than going to the store and purchasing the "traditional" ingredients.
Gluten Free Recipe – Tamale Pie
Serves 4
Ingredients:
3/4 cup corn flour
3/4 cup almond flour
3/4 cup buttermilk (see below how to make your own buttermilk from regular milk)
1 tsp baking powder
1/2 tsp sugar
1/2 tsp salt
1/4 tsp baking soda
1 large egg
and
2 lbs of chicken meat diced
14 oz of stewed tomatoes, drained
12 grape tomatoes, cut in half
1 large onion chopped
4 cloves of garlic, peeled and minced
2 cups fresh mushrooms, sliced
1 cup black olives
4 cups cheddar cheese, shredded
2 tsp hot chili powder
Preheat the oven to 450F and grease a 9×9 square baking pan with the tsp of butter.
The Crust
(If you don't have buttermilk on hand, simply add 1 tsp white vinegar to regular milk and let it sit a minute before adding it to the bowl. Yes, this even works with almond milk..) Combine the first 8 ingredients and pour into the baking dish. Bake at 450 for 20 minutes and remove from oven. Turn oven down to 350.
The Meat
Our chicken was leftover, picked from several whole chickens we had roasted earlier in the week, so it was a combination of white and dark meat already cooked. If you are starting with raw chicken, roast 2 lbs of chicken, testing with a meat thermometer that the inside temperature is 170F, or the juices run clear when you prick it with a knife.
The Rest
In a skillet over medium heat, sautée the onions and garlic in a tsp of butter, stirring occasionally until the onions are translucent, about 2-3 minutes, then stir in the mushrooms and remove from the heat.
Pour the diced, cooked chicken, onions, garlic, mushrooms over the crust. layer that with the stewed tomatoes and then the sliced tomatoes, olives and finally, the shredded cheddar. Sprinkle the chili powder on top, and bake again at 350F for 25 minutes.
Serve with Sangria and Scrabble. OLE!